"Participates in local, state, and national professional organizations to strengthen skills, interact with fellow professionals, promote professional association scholarships, and contribute to the library profession." – ALSC Core Competencies
An important part of being a librarian who works with the public (either in a school or public library setting) is the idea of giving back to the community.  Service is important to me, encompassing professional development as well as community service. Through my involvement with these five activities, I have learned the art of collaboration, presentation, tutoring, advocacy, and event planning.
In the fall of 2009, two iYouth officers and I put on a Scrabble for Literacy fundraiser for Page Ahead (the same literacy organization as above!). Sara Lachman, Samantha Walters, and I planned and implemented the entire event.  Responsibilities included reserving a room, getting a banquet permit, finding prizes, finding quality Scrabble boards, setting up registration, buying food and drinks, and day-of logistics. Participants paid $10 for the chance of winning the grand prize of a $25 gift certificate to the UW Bookstore as well as smaller prizes for the best library-related word from Big Time Brewery, BookIt theater, and books.  20 people participated, raising over $200 for Page Ahead! The experience helped hone our skills in planning programs, collaboration, and coordinating volunteers.
Page Ahead Storytime Reader
Page Ahead is a Seattle non-profit literacy organization that "provides new books for children to own, celebrates reading as a way to learn in school and succeed in life, educates and encourages parents to read with their children, and recruits volunteers to hold book drives, adopt educational sites, and read with children" (Page Ahead website). Since October 2009, I have been one of those volunteer story time readers.  Every week, I go to a Head Start preschool in the International District and read stories, do fingerplays, and sing with children around a theme.  Visiting the class and getting kids excited about reading and activities around learning has been one of my favorite days of the week. Ways I incorporate early literacy skills in my storytimes (narrative skills, phonological awareness, letter knowledge, print awareness, vocabulary, and print motivation):
At exciting points in the story, I might stop and ask the children what has happened in the story and predict what might happen next. At the end of the story, I sometimes ask the class for an overview of the story. (Narrative Skills)
Rhyming stories lend themselves well to having the children brainstorm what other words might rhyme with the words. When we sing songs or do fingerplays, I often have the children repeat after me and then we do the song or fingerplay multiple times together. (Phonological Awareness)
I add a lot of suspense to books and when children seem particularly excited about a book, I let them know that they can find it in the library (which is half a block down the street, which I am sure to mention) and have teachers hand a slip of paper with books we read that week for kids to take home (Print Motivation)
I mention the title, author, and illustrator, and hold the book so everyone is able to see the pictures (Print Awareness)
In alphabet books, I ask the children what the letter is before I say it. (Letter Knowledge)
I ask children what they think certain words mean (difficult words with multiple syllables or unique names) and then define words for them. (Vocabulary)
Homework Help
Starting in Fall 2009, I became a Homework Help volunteer at Northgate Library.  Every week, I assist students with their homework on a drop-in basis for an hour and a half. I have helped students from elementary school through high school on everything from reading assistance to math help in algebra. I recently participated in a Discovering Mathematics in-service training on high school math, learning techniques for tutoring in math as well as a way to access the high school math textbook online for further resources.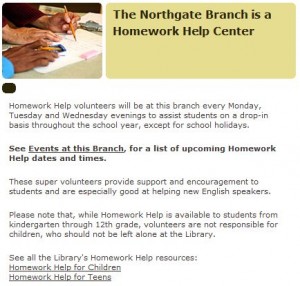 I am the MLIS residential student representative for CAYAS, the children and young adult services interest group for Washington Library Association (WLA). My primary responsibility is helping organize, participating, and recruiting other students to participate in the WLA workshop, "Booktalking the Best," in which current students booktalk the best books for teens. This year, the WLA conference will be in August, so there are no pictures yet, but you should come to hear about the new and upcoming books MLIS students loved! I recently participated in the CAYAS spring workshop: "Imagine, Program, Share: Library Programming with Scratch," in which I learned to use a free software tool developed by the MIT Media Lab that can be used to create animation and game projects that incorporate music, sound, original art, digital photographs, and more. Check out my project here!
iYouth
As the Co-President for iYouth, the student group at the University of Washington dedicated to supporting professional development for students and professionals interested in youth services, I helped coordinate events, run meetings, and promote workshops.  This year, events included:
iYouth Pizza Party and Book Swap – a chance for new students to meet the iYouth officers, swap a book, hear about iYouth's planned events, and brainstorm future events.
Scrabble for Literacy – scrabble fundraiser for literacy organization
Book Club – monthly meeting in which students discuss one picturebook and one chapter book. Chapter books discussed this year include: The Lightning Thief, When You Reach Me, The Book Thief, We Were Here, The Maze Runner, and Going Bovine.
Creative Youth Programming in Libraries – teen librarian discussed programming with teens at his library in an informal conversation with students. One of the coolest programs: hosting a rave in the library!
Youth Services 101: Seattle Public Library librarians Jennifer Bisson and Chrissy Knoelke discussed what it means to be a youth services librarian and how to get a job. Check out the poster I created to advertise the event!
iYouth Conference – our biggest and most successful event of the year in which 120 students and professionals attended a day-long conference.  Librarians, Children, and Teens, Oh My!: Innovations in Youth Services included sessions on storytelling, digital storytelling, booktalks of the best teen books, a technology with teens panel, a zine workshop, radical change, and authors talking about writing for boys! The entire conference planning committee had months of preparation to organize the logistics of the events. I was responsible for organizing the meetings and recruiting presenters and was one of the only students who had been part of the iYouth conference committee the year before.  Check out more information from this year's conference here.