The mission of American Libraries Association is "to provide leadership for the development, promotion, and improvement of library and information services and the profession of librarianship in order to enhance learning and ensure access to information for all."  Ensuring access to information for all in this digital age means that librarians should possess up-to-date computer and technology skills and be familiar with emerging trends and tools. The following two artifacts demonstrate my competency in technology skills and knowledge.
The Future of School Libraries
"Stays informed of current trends, emerging technologies, issues and research in librarianship, child development, education, and allied fields." – ALSC Core Competencies
As a final project for LIS 585: Management of School Libraries, we were asked to create a 15-minute strategic plan for the school library program of a school. I chose to make a video arguing why school libraries with librarians are still important and addressed four goals that had to do with being on top of current trends, emerging technologies, and research that shows the important of school libraries. Toward the end of the video, I named about 10 different emerging technologies that I thought school librarians should be using with students. I created the video using Windows Movie Maker, software that is available for all PCs and allows people to edit movies. I also familiarized myself with new technology and emerging trends aimed at student research, such as Symbaloo, Glogster, Evernote, SlideShare, PhotoStory3, Bookgoo, Diigo, Web-Chops, OttoBib, Mint, Meebo, Notely, and Wordle. I learned how to download videos from YouTube and insert them into the video editing software. To improve the video, I would spend more effort finding music that is not copyrighted in order to distribute the video widely (rather than being used to present to a potential board of directors, in which the music licensing would fall under fair use).
"Possesses up-to-date computer and technology skills necessary for effective communication and presentations." – ALSC Core Competencies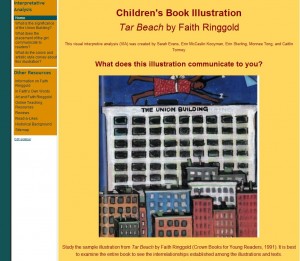 A visual interpretative analysis analyzes the illustrations in a picture book in order to understand what is being communicated, how it is being communicated, and the interplay among the visual elements.  In the class, "Multicultural Resources for Youth," a group assignment was to create a web page of a visual interpretative analysis. Our group analyzed Tar Beach by Faith Ringgold.  Using Google Sites, I created the website, chose the colors, and added pages tying in other resources to note about Faith Ringgold. While I have had experience designing websites for classes and clubs using templates, Expression Web software for website design, and WordPress, and I understand HTML, I think it is also important to be familiar with a simple website designer such as Google Sites in order to teach others who are interested in website design but have limited technical skills. I would now feel comfortable leading a training on how to create a website in an hour or less.