In my eyes, collection development encompasses a knowledge and appreciation for the wide variety of resources a library should collect based on user needs and the mission of that particular library in addition to an understanding of cataloging, classification, and indexing procedures and practices.  In coursework and usually in practice, collection development and cataloging are two distinct areas, but for my public librarian mindset of working with the public, I think collection development is about deciding what to purchase and how to make what is purchased available in the most effective ways for users. The following four artifacts demonstrate my competency in collection development.
"Maintains a diverse collection, recognizing children's need to see people like and unlike themselves in the materials they access." – ASLC Core Competences
At the same time I was doing a directed fieldwork with the elementary school library at John Stanford International School, I also took the class LIS 569: Multicultural Resources for Youth. One of our assignments was to create an assessment of and recommendations for the multicultural resource collection in an existing school or public library for children or young adults, with recommendations focusing on one or more genres and on one or more racial or ethnic groups. I suggested 30 books that would serve to enrich the multicultural collection with an approximately equal amount of books that represent African-Americans, Latinos, Asian-Americans, and Indigenous Americans.  I made sure that books were authentic multicultural literature in that they have at least two out of the three characteristics: 1. They are based on fact (cultural accuracy), 2. They reproduce essential features of an original culture (cultural accuracy), and 3. They are true to the creator's own cultural personality, spirit, or character (cultural immersion).  By reading reviews, becoming familiar with major multicultural awards, and choosing books to expand an actual collection, I gained an appreciation for the necessity of collecting diverse materials so that all people can be exposed to diverse experiences and perspectives.  

"Keeps abreast of new materials and those for retrospective purchase by consulting a wide variety of reviewing sources and publishers' catalogs, including those of small presses, by attending professional meetings, and by reading, viewing, and listening." – ALSC Core Competencies
An alum of the iSchool and friend of mine who is now a children's librarian with the North Olympic Library System in Port Angeles, WA asked our collection development class if we wanted a real collection development assignment because the library system and the Port Angeles School District had received grants to create public library collections that support Social Studies Curriculum-Based Assessments (CBA) and needed print and free resources no older than 5-6 years about the theme, "Humans and the Environment" for elementary school.  I took her up on the offer, focusing on Native Americans and the environment.  Since I was not personally familiar with the topic, I checked out and read all the children's books I could find about Native Americans from multiple library systems, went to bookstores to look at books published more recently, read reviews, checked for cultural authenticity, and eventually paired down a list of more than 100 items to 15 essential items and a number of websites.  The process was really informative and a real-life example of how to apply collection development principles to practice.  I had to be cognizant of the types of materials I wanted to include in a collection (series books about Native American tribes, atlases, books about the environment) and choose books that reflected the complexity and breadth of Native American tribes across the United States.  This process helped sharpen my analytical and research skills in creating a public library collection.
"Demonstrates a knowledge of cataloging, classification, indexing procedures, and practices to support access to materials." – ALSC Core Competencies
Since I have no previous work experience in any library setting, I took cataloging in order to better understand the principles and standards in creating a catalog and cataloging records. The purpose of this assignment was to learn and evaluate the organization of information in a real catalog, think critically about information systems, sharpen searching skills, and reinforce knowledge and understanding of cataloging practice.  In my analysis of the Bentonville Public Library (Bentonville, AK) online catalog, I wrote about the different search types (browse author, browse title, browse subject heading, keyword), access points, and arrangement of items retrieved as well as the authority control and ease of use.  I determined that different search mechanisms yielded vastly different results even though patrons probably do not understand the difference. However, I did appreciate the "Found As" feature of the catalog which allows patrons to understand in an unobtrusive way how the search was retrieved.  This assignment gives me the confidence to analyze any online library catalog, understand the underlying principles, and make suggestions for what might be more useful or efficient to patrons.
"Demonstrates a knowledge of cataloging, classification, indexing procedures, and practices to support access to materials." – ALSC Core Competencies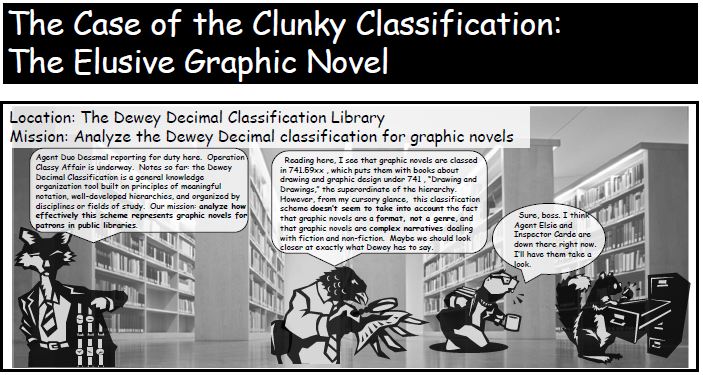 In a class on indexing methods which explored issues in subject representation and policies of indexing and abstracting services, our final assignment was to create a poster that identifies a classification scheme as well as relevant literature that discusses the conceptual foundations and the purpose and scope, and how the scheme represents documents.  I chose to analyze how Dewey Decimal Classification represents graphic novels in a poster that took the format of a graphic novel itself.  I determined that the DDC's scheme is inadequate for representing graphic novels for a positive user experience, but also noted that the DDC is aware of these challenges and currently have a proposal to improve the development at 741.5.  This analysis demonstrates my knowledge of indexing procedures and ability to creatively analyze a cataloging situation and make recommendations.