Librarians are teachers, both informally through instructing someone how to use a scanner, set up an e-mail, or access online databases as well as formally through teaching information literacy classes to students and citizenship classes to new immigrants.  I think instruction will only become more important for libraries as technology and new media gets ever richer and more complex.  Personally, instruction has always interested me; I minored in educational studies in college, considered pursuing a teaching career before deciding on librarianship, and taught Spanish for a year in a private Montessori school before beginning my MLIS.  The following four artifacts demonstrate my competence in teaching and instruction.
"Writes proficiently and adjusts content and style to accommodate diverse functions and audiences." – ALSC Core Competencies

For a class on information literacy, I designed an information literacy program for the school I taught Spanish at before starting graduate school, Woodinville Montessori School. The program was designed with Montessori educational theories in mind and identifies goals and objectives, presents a broad overview of the fall curriculum, and includes a sample lesson plan. The sample junior high lesson plan is "Advertising 101: Principles of Presentation Success,"  which teaches students how to have an effective presentation. (Follow link to read just the lesson plan and not the entire prospectus).  Designing this prospectus gave me experience in writing goals and objectives for instruction as well as experience in designing a library lesson plan.
Elementary School Library Lessons
"Communicates effectively when addressing or presenting to large or small groups of children and/or adults." – ALSC Core Competencies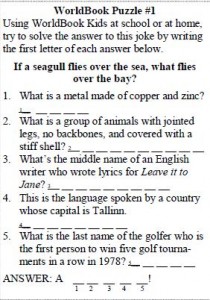 In my directed fieldwork at John Stanford International School Library, I taught fifth-grade students how to use WorldBook, an online encyclopedia available through Seattle Public Schools online resources. First students watched a 5-minute instructional video from the WorldBook site, and then I taught them how to use keywords to find information they need. I developed a little game they did in pairs after the lesson (look above) where students had to solve the answer to a joke by finding out the answers to questions to practice using WorldBook.
I taught fourth-grade students how to locate information and materials about Washington State to prepare for their reports. I pulled books about Washington State to display and highlight, read a Nisqually legend about Mt. Rainier, and created a timeline based on timelines from CultureGrams and WorldBook (available through Seattle Public Schools online resources) that students had to fill-in using the computer. I also developed a list of student-friendly and teacher-friendly resources about Washington State to give to the teachers.
For both lessons, I applied previous teaching techniques to a class of library students and used information literacy principles to teach finding, locating, and using information effectively.
Spanish Curriculum and Teaching
"Demonstrates an understanding of and respect for diversity in cultural and ethnic values." – ALSC Core Competencies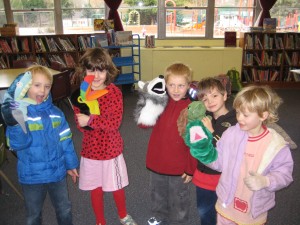 In 2007-2008, the year before I started the MLIS program, I taught Spanish for a year at Woodinville Montessori School for the 3-6 year old early childhood classrooms and the 6-9 year old lower elementary classrooms. I used games, puppets, props, songs, and conversations to teach Spanish, and one of the most fun lower elementary class activities (for myself and the students) was putting on a play in Spanish based on a book.  The 3 classes each did a separate play and created masks for their animal costumes. Here you can see the script I created for the play Daniel and the Mud Hole, adapted from the book Millie and the Mud Hole by Valerie Reddix. Teaching Spanish gave me an appreciation for language-learning, presenting in front of large groups of students and adults, and promoting a respect for other cultures.
Training for Board of Directors of Biblioteca Quiero Aprender Contigo in Chilamate, Nicaragua
"Participates in all aspects of the library's planning process…Demonstrates critical thinking, problem solving, decision making, and mediation skills and techniques." – ALSC Core Competencies
One of my responsibilities as a Library Intern for Opportunity International in Nicaragua when I was working with a rural community to create a library from the grounds-up was developing training for explaining what librarians do (in the most basic sense) and the role of a Board of Directors. Above you can see a video with the PowerPoint I designed (and then translated to a big Post-It flip chart as you can see in the photo above because there was no electricity) and taught with my supervisor.  I had to think critically about how to communicate the basic role of libraries and librarians in Spanish to a group of people who had never stepped foot in a library. I worked collaboratively with my supervisor to develop and implement such training. These tasks enabled me to think critically about the meaning of libraries and the role of a Board of Directors in the most basic sense and gave me a foundation for the library planning process.